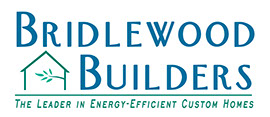 SIPS Custom Home Builder - Harrisburg, PA
The Leader in High-Performance, Green Custom Homes
Bridlewood Builders
... the SMARTER way to build!

Structural Insulated Panel System (SIPS)
Certified Master Builder
Passive House
Certified Builder

NAHB Certified Green Professional

Award Winning Green, High-performance Homes
Blower Door Tested with Verified Performance
NEWS:
Bridlewood earns Pyramid Award for
2014 - Best Green Custom Home
Bridlewood breaks ground for
Passive House in Hershey, PA
Bridlewood Builders elected to
Penn State Building Research
Industry Advisory Council
Bridlewood Builders was the first company to receive the SIPS Registered Master Builder designation from the Structural Insulated Panel Association (SIPA). Bridlewood has made energy efficiency, green building and quality craftsmanship part of our company's core values, earning us coverage on HGTV's DREAM BUILDERS television series, Builder magazine, Home Magazine, and multiple awards from the Home Builders Association of Metropolitan Harrisburg.
PHONE: (717) 651-0058 EMAIL: Info@BridlewoodBuilders.com
MAILING ADDRESS: 6551 Devonshire Heights Road, Harrisburg, PA 17111
Bridlewood Builders is a division of Leaders in Excellence, Inc., based in Harrisburg, PA.
© Copyright 2015 Bridlewood Builders. All Rights Reserved